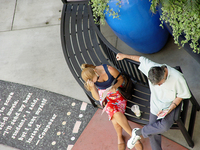 Most guys would approach women more (and have more success in dating) if they felt more comfortable with talking to women. It can feel intimidating to talk to a person you hardly know, while deep in the back of your head you're wondering how to ask her out, does she like you, will she ever want to sleep with you, etc. Sometimes the amount of things you wonder about women can be so overwhelming that it's difficult to initiate a conversation.
The first step is to SLOW DOWN. You only need to worry about one thing at a time. The first thing you want to do is to make sure you're totally relaxed for any conversation. If you talk too excitedly, you'll come across as nervous. Slow your speech down so that you don't hurry your words. If you appear relaxed and in control, you'll come across with confidence, and she will find you more attractive.
Next, you should find a topic that meets the following criteria:
– Positive and uplifting
– Exciting to talk about
– Ending with an open-ended question, such as "Why?" or "How?"
By keeping the conversation upbeat and exciting, you're making it worth her while to keep talking. By asking the open-ended questions, you are finding a way to keep her talking. If you pay attention, just by listening, you'll hear her mention things that you can ask more questions about, and keep the conversation flowing.
Here are some examples of questions to ask her:
– "If you could live anywhere in the world, where would you live? Why?"
– "If you could be anyone in history, who would you choose to be? Why?"
– "If you could make a living doing any kind of work, what would that be? Why?"
By asking "What if" questions, you get her to think outside of her usual box. She's used to dull topics. These questions get her thinking and dreaming. They get her mind working on possibilities.
Here are some things you should NOT talk about with her:
– Death, violence, or tragedy
– Her family
– Your money or how much you make
– Your plans for a family or marriage
– Sex (until she brings it up)
– Any negative topics
– Any information about you that is too revealing
Also, wait until much later to start talking about romantic goals with her. You don't need to tell her all the reasons you'd make a great husband for her on the first date. Give it time. There is such thing as too much, too soon.
If you feel that you're running out of steam and you can't find any more topics, take a look at what she's wearing. If she has any jewelry on, even a watch, ask her: "What's the story behind that?" This could get her talking about herself, and you can keep asking more questions to keep it going.
Always remember: You want to keep the subject of the conversation on HER as much as possible. The more she can talk about herself, the more attraction she will feel for you. I encourage you to step in that interesting world of possibilities and read more about how You can talk to women too.