Yes, they are. And before you start to freak-out read the rest of the text. At the end of story you can find a tweak that might help.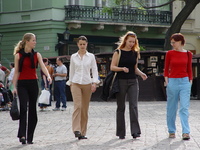 All of us are after money. Let me share a couple of examples with you;
You are driving through the unknown area. It is the night, it is raining and the road is wet, so visibility is not so good. All you have is GPS and a good company. You are feeling safer and more comfortable if your car can provide you better visibility. And car with features like quality headlights, good tires and air conditioning able to eliminate the blurred glass areas makes the difference. In another words – more expensive cars are better choice in this situation.
Now it's been a couple hours and you are feeling tired. Your GPS is telling you that there is a hotel nearby. If you have money your option is to drive through the shiny garage, take a room, take a shower and share some quality time with the people you are travelling with. Otherwise, your option is to spend the night at the dark, cold and spooky parking.
You are coming to your destination just about noon, perfect time for drink, lunch or other refreshment. You met some old friends. Last year you spent a wonderful time in their weekend cottage and you want to by a lunch to them and to the passengers from your car. In order to do that you need – you are guessing what.
All of that can be costly, but the money is made for spending, isn't it? And the women are well aware of that.
You are probably asking yourselves; what's my point?
Well, there is a business that can bring some money in your lives. It doesn't require a big investment, you can do it in your spare time and all you need is a computer, internet connection and the commitment. You can promote your existing business, other people's businesses, or even pick an area you are passionate about, share, promote and again-make money. This business is known as internet marketing.
A few words about marketing – in general. Marketing is all about building reputation, building connections, gaining trust, and offering people value for their money. One thing you shouldn't do is come to your business associate with the text: I am a newbie and I don't know what to do next. Businessmen are looking for partners, not students.  The right thing to do is to master one marketing area and open a discussion with the more experienced marketer. There is no second chance for the first impression. And in marketing – impression is very important – if not crucial.
There are places where you can, hopefully, start your new journey as an Internet marketer and a person with some extra income in the pocket. Here are four of them so you can choose, depending of your preferences;
P.S. Good luck!